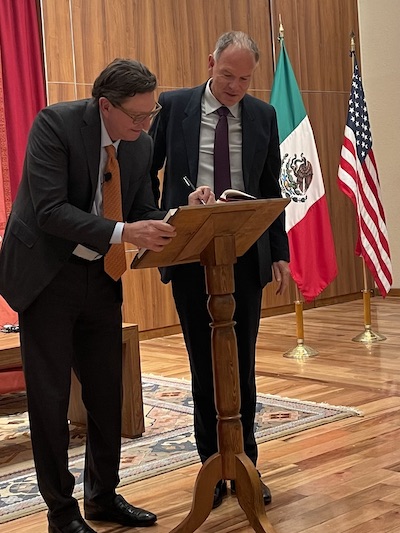 After USC Marshall and IPADE, Mexico's largest business school, signed an agreement establishing a yearly lecture series, Marshall Dean Geoff Garrett made good on his side of the bargain.
In his first international excursion March 16-18, Garrett traveled to Mexico City to meet with IPADE school leaders and hold a discussion with Scott McClelland, former president of H-E-B Grocery Company with stores in Texas and Mexico. The discussion was the second installment of an international lecture series signed into agreement by both schools in 2018 to promote understanding in business, economics, and finance.
"It is fitting that my first international trip as dean of the Marshall School here in Los Angeles is to our neighbor in Mexico City," Garrett said. "Our two great business schools in two of the world's most global cities have much to learn and gain from our partnership, and I am excited to begin what I know will be a long, fruitful and reciprocal relationship."
In the keynote event, Garrett spoke with Marshall alumnus McClelland, who recently stepped down as president of Texas-based H-E-B after a 31-year career.
McClelland is a Southern California native who earned his undergraduate degree in business administration from USC Marshall, and later attended Marshall's Food Industry Management (FIM) program, which provides young professionals in the food industry with executive training.  McClelland went on to become a leader at H-E-B, the popular grocery chain based in San Antonio. He made headlines in 2017 after Hurricane Harvey dumped 50 inches of rain onto Houston and he went above and beyond making sure his people were safe and his community had what it needed to survive the floods.
H-E-B expanded into Mexico in 1997 and today has more than 60 locations in the country.
McClelland and Garrett discussed how the food industry has evolved over the last 30 years, how H-E-B's culture plays a role in its success, its decision to expand into Mexico, and how the privately owned chain has remained competitive in the face of disrupters such as Amazon. The discussion was presented before a live audience while also being streamed live for remote participants.
IPADE (Instituto Panamericano de Alta Dirección de Empresa) was founded in 1967 by a group of business leaders to train students in a global approach to business with an adherence to social responsibility. It is one of five schools in the Pan-American University, Mexico, and offers a full-time MBA, an executive MBA and several other specialty programs. With its main campus in Mexico City, it is the largest business school in Mexico.
On March 17 Garrett met with alumni and parents at a dedicated event, underscoring the school's commitment to building strong relationships within the Trojan family.