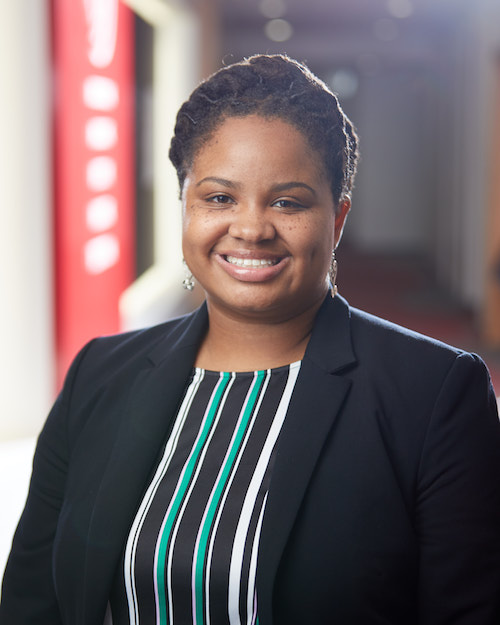 "I am exactly at the place where I'm supposed to be in my life," Aria Aaron MBA '21 said at the virtual Marshall Scholarship Celebration on Jan. 29. "I can't begin to describe the amount of peace, joy, and happiness that comes with that."
Chosen as a graduate student speaker, Aaron had received a scholarship from the Gail G. Ellis Scholarship Fund and expressed her thanks to all the donors. "You have allowed people to live out and get closer to their dreams. I am an example of that, and I am highly indebted."
With a B.S. in journalism from Florida A&M University and an M.S. in management from Wake Forest University, she came to USC Marshall to make an industry change, from consumer products to media and entertainment. She had worked in brand management at Georgia-Pacific in Atlanta, GA, for five years and grew to love marketing while working on the Angel Soft bath tissue brand team.
While at Marshall, an internship with Facebook steered her toward the tech space. Aaron plans to work in partnerships marketing for an entertainment tech company after graduation. The entertainment industry's "just in time" recruiting policy means she hasn't sought an offer yet. But that doesn't worry her a bit.
"I know I can achieve my future goals, and that is because of Marshall—from the curriculum and industry knowledge to the alumni network and the wonderful community of friends and colleagues," she said.
A Fellow with the Consortium for the Study of Graduate Management and with the Forté Foundation, organizations that support underrepresented minorities and women, respectively, in business education and leadership, Aaron applied to USC through the Consortium.
One of her reasons for choosing USC Marshall was an alumni network "entrenched in the entertainment industry."
"That has been the greatest advantage," she said. "So many alumni in various functions in entertainment and media have been so willing to help." In her speech, Aaron also compared the Marshall community to "a village" with "supportive and collaborative" people who have helped her to flourish.
She got the industry knowledge she sought with Marshall's specialized Certificate in the Business of Entertainment, taking courses in the School of Cinematic Arts taught by professors working in the industry.
As president of the Black Graduate Business Leaders affinity club at Marshall, she started the Forward Summit in conjunction with the Latino Management and Business Association last year. Its mission is to highlight Black and Latinx professionals in business "in order to inspire, connect and elevate a new generation of professionals," she said. The second annual summit is Saturday, Feb. 27.
One of her most meaningful experiences at Marshall was her participation in the John R. Lewis Racial Justice Case Competition, hosted by Emory University. Her team made actionable recommendations to Johnson & Johnson about encouraging more Black girls and women in STEM. They won first place.
"That's what I came to B-school for—opportunities to have impact now and in my career."