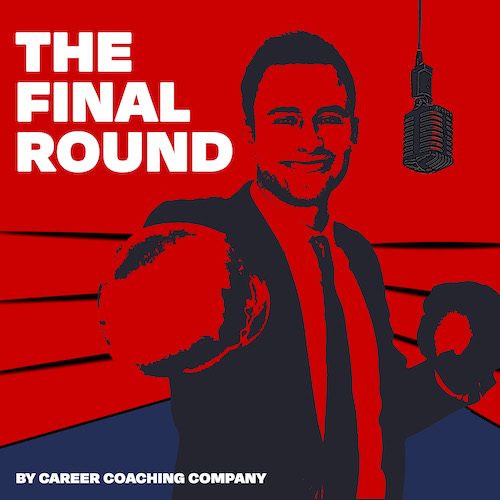 So you've made it into the final interview at Google/Facebook/Amazon/Boston Consulting Group/insert-dream-job-here. Now what?
Aaron "A. J." Eckstein '20 wants to help.
His career podcast, "The Final Round," brings recruiters from top companies in to discuss best practices and expectations for nailing the dreaded final interview.  As the name suggests, his listeners learn from the experts how to land that "knock-out" punch to advance past the final round interview and nail the dream job.
The podcast is part of Eckstein's side hustle; running The Career Coaching Company (CCC). This startup pairs job seekers with coaches who work at top companies in consulting and investment banking. CCC has already placed more than 110 clients into top firms. By day, Eckstein is a strategy consultant at Accenture, and he spends nights and weekends helping more job-seekers with career advancement.  
Connecting people is his passion. "The world is about building relationships, isn't it?" he says.
In the course of producing the podcast, he says he's done more networking than he did while recruiting for his first full-time job. "Even at USC, nobody hands you a network," he said. "You have to go out and get it. I love to own this."
He knows the career podcast market is saturated. He differentiates by focusing on a niche which includes interviewing those guests who are the hardest to land but the ones people want to listen to the most: Recruiters. He's interviewed recruiters from firms such as McKinsey & Company, Facebook, Google, and Boston Consulting Group with the idea of getting to know them and what they're looking for in new recruits.
It's a popular podcast, ranked as one of the top 1.5% most popular shows out of 2,000,000+ podcast globally, ranked by Listen Score (the estimated popularity score). It has also earned more than 100 five-star reviews and counting. 
Attitude of Gratitude
If attitude and drive are everything, Eckstein is going far. He transferred into Marshall as a sophomore and promptly relaunched the dormant Latino Business Students Association, growing its membership to one of the largest organizations on campus and connecting it with corporate sponsors. He received the "Most Outstanding President Award" and the "Diversity and Inclusion Award" out of 20,000 USC undergrads for his efforts helping countless underrepresented students land top jobs.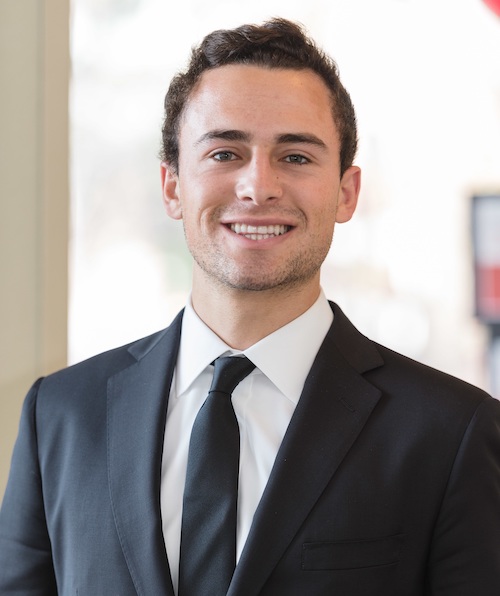 In the spring semester of his senior year—2020—he had everything planned out. He was set travel to Spain as part of the Marshall International Case Competition with finance professor Julia Plotts. Then he would attend graduation at the Galen Center of campus. He bought a departure ticket to backpack Southeast Asia with no return ticket. He even had a job offer with Accenture lined up and was looking forward to moving to San Francisco and starting his young adult life.
"Everything was on track, he said. All of his hard work was finally paying off. And then COVID shut everything down—his commencement ceremony, his travel plans, San Francisco. Even his job was put on hold for 6 months.
A tough situation for anyone, but especially an ambitious 21-year-old.
But true to his nature, Eckstein says the time he spent at home was a gift in disguise. "I realized I was actually in a good place, really. I still had my job, it was just temporarily on hold.  I had an opportunity to pursue what was really important to me"
What was increasingly important to him, in the meantime, was coaching his friends on their careers, who came to him with their own troubles and job losses. In time he realized he enjoyed career coaching, but also that it was taking all of his time.
"There are only so many hours in the day," he said. "I realized that we could get together and create value."
So he launched a startup, The Career Coaching Company, and stepped back from one-on-one coaching, opting for a team of coaches from around the US. Today the startup has a general manager, 4 interns, and over 10 coaches.
It also produces The Final Round podcast. "This isn't a money play for me," he says. "I'm just passionate about this."
The difference between enjoying your job and following your passion is when working weekends comes second nature. "I work weekends and I don't even think about what might be missing."
What's next for Eckstein?
He looks forward to continuing to help struggling job-seekers advance their career. He frequently hosts live career webinars to his 10,000+ LinkedIn network. He recently launched a YouTube channel where he shares the video interviews with recruiters. His podcast will be wrapping up Season 1 soon with interviewing recruiters, and he plans to interview Hiring Managers for Season 2. And lastly, he has a book on the way that will be sharing his journey and experience interviewing top talent acquisition leaders.
Links: