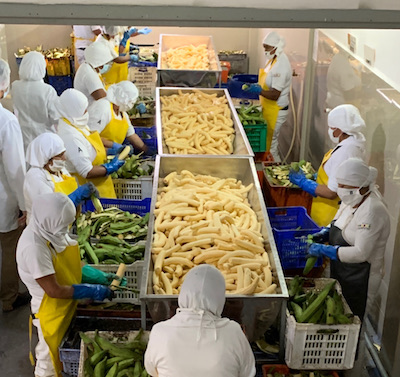 It's not banana — it's Barnana. And business students all over the world will soon learn about the Los Angeles-based sustainable snack foods company courtesy of a new case study developed by Jeremy Dann, an entrepreneurship lecturer and director of the Case Program at the Lloyd Greif Center for Entrepreneurial Studies, for his "Green Entrepreneurship" course at the USC Marshall School of Business.
Barnana: Adventures in Upcycling got a major boost when it won the Outstanding Case Writer Competition: Hot Topic "UN Sustainable Development Goals" category at the Case Centre Awards and Competitions 2021.
Hosted by the Case Centre — a UK-based nonprofit with 500 member organizations worldwide and boasting the world's largest repository of case studies for teaching management and other disciplines — the awards recognize outstanding case writers and teachers in an event described as the case method community's equivalent of the Oscars. The list of winners of Case Centre competitions and other awards is typically dominated by top business schools; winners in the past few years include Harvard Business School, INSEAD, London Business School, MIT Sloan, University of Oxford and Stanford Graduate School of Business.
Greif Center Case Program
Marshall's Case Program launched eight years ago and gained global distribution six years ago. From the beginning, Dann said, the goal was to create a case collection that was very focused, but also world class. "We want to impact the experience of our students in the classroom, but we also want to help improve the learning experience and the timeliness in hundreds of classrooms around the world," he said. "Now, getting this acknowledgment, in what is to my mind the top case writing competition, reinforces that we can have a major impact in the teaching of entrepreneurship, innovation, and social entrepreneurship all over the world." 
One of the judges commented: "This is an outstanding case that could become a classic go-to for classes in entrepreneurship, sustainability and marketing."
To make its healthy treats, Barnana upcycles bananas that would otherwise be composted or wasted, working with organic and regenerative farms in indigenous South American communities. The company, which became a certified Benefit Corporation in 2019, was launched by Brazilian-born former professional triathlete Cauê Suplicy, who relocated to the United States in 2001.
"The UN Sustainable Development Goals emphasize reducing poverty and providing opportunities for good work and economic growth," Dann said. "Barnana wants to invest in agricultural practices in tropical regions that can help create stronger local economies, while also reducing waste and improving soil conditions through regenerative agriculture. I think the story of Barnana shows how both the environment and the economy — particularly at the grassroots level — can benefit."   
A Case for Green Entrepreneurship
Dann created the Green Entrepreneurship class because of his longtime passion about environmental causes. But the offering also aligns with University priorities. USC is making a big push to update the curriculum with more offerings related to environmentalism, and those in charge of university operations are trying to upgrade performance on environmental impact measures. "I'm very excited that my course and this case can be a part of that effort," Dann said.
With his class approved for Marshall in 2020, Dann reached out to Suplicy. "He had spoken to my other classes many times over the years," Dann said, "and I liked that his venture focused on a very understandable product. Everyone understands bananas."
Barnana's soft, dried banana snacks actually came from a family recipe — and provided healthy energy food for all those triathlons the founder competed in. Suplicy got the idea to start a snack food company when he noticed the popularity here of coconut water and açai berries, which are also healthy treats he grew up enjoying in his native Brazil.
Suplicy was eager to work with Dann on the case. "Having had the privilege to speak at several of Professor Dann's classes over the years, I came to appreciate how he was at the academic forefront of entrepreneurship," Suplicy said. "I always enjoyed these experiences, and the rich engagement and interaction with the students."
From the Barnana case, aspiring entrepreneurs can learn the importance of being adaptable and resilient, of building a diverse team and of leaving your ego at the door. Of course, there are more specific lessons that environmental innovators can take from Barnana's story. "I hope the Barnana case study helps underscore that you can create a business that supports the 'triple bottom line' model, being both financially viable and sustainable for the environment and people involved," Suplicy said.
Meanwhile, Dann is looking forward to tackling more cases relating to sustainability and environmentalism for the Greif Center. "Southern California is known all over the world as an innovative region — a lot of new trends in media, health, tech and other industries emerge from here. And now it's happening with cleantech and other green businesses.
"I think we really add to entrepreneurship and business education when we can be among the first to focus on the companies introducing these innovations."