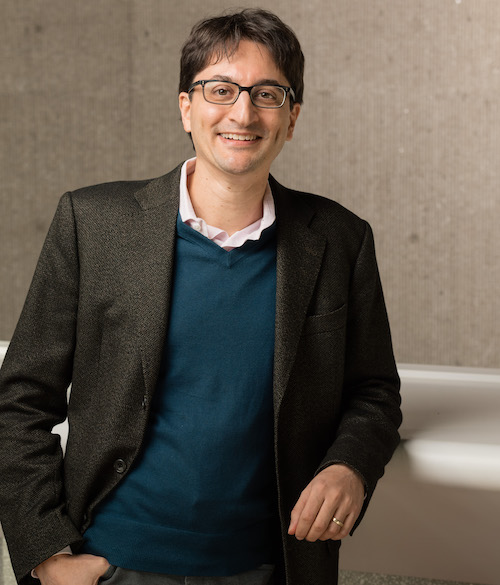 More than 160 companies have moved through the Marshall Incubator since it launched in 2015. That makes Director Paul Orlando something of an evangelist when it comes to helping any Trojan who comes to him with the start of something good.
"We've had a breadth of startups come through, not just apps," he said. Past startups have run the gamut from VR and AI to furniture, food and beverage. "For entry, we require the startup to be past the concept phase, at minimum with a minimum viable product. Also, the team has to be coachable and be open to working with us."
For Orlando, that's the sweet spot for the Incubator—a young company that needs space, time, coaching and mentoring to bring it to the next level, wherever that level is.
It's a formula that has worked.
Emotive, a startup that helps Consumer Packaged Goods companies speak to their customers, recently raised a $50 million Series B round of funding.
"These are two former undergraduate students of mine who graduated in 2018," said Orlando. "This is a team that has ups and downs along the way but have now built value with enough customers that they attract that kind of investment."
Another company from the recent Spring 2021 cohort, Invezo, a stock and crypto analysis tool that integrates traditional stock market data with social media data, has just finished its stint with Y-Combinator, the elite Silicon Valley based accelerator that makes small investments in select companies, enabling them to create a product or service that will attract the interest of a larger investor.
"I was a sophomore when we got to the Incubator, and my team and I had no idea what we were doing," said Emmett Miller, who launched the startup with his brother and a friend.  "I didn't even know what a Series A was."  (A Series A is the first formal financing round a young company can raise once it has a proven track record. It's typically for a larger amount that any "pre-seed" or "seed" financing it raised earlier.)
Although his cohort was online during the pandemic, the startup benefitted from Orlando's weekly speakers, discussing all things startup, from marketing to legal to fundraising, as well as from Orlando's extensive network. "He had a list of companies who had interviewed with Y-Combinator, and he had a list of likely questions they'd ask at the interview," said Miller. "I gotta say; I nailed the interview."
"Paul's continued to be a mentor to us," he said.
The incubator is open to current USC students, faculty, staff, and alumni. While startups have a reputation of being a young person's game, in reality that's not always the case. "There are people here who've been working for 10-15 years and come to us because they want assistance with their idea." Some 50 percent of those working through the Incubator are alumni, said Orlando.
One alumnus founder, Roger Leib, of the company Activ Sitting, graduated in the '60s. With some 25 furniture patents to his name, he is working on a "smart chair" that will combat the sedentary lifestyle of millions of knowledge workers who sit in front of the computer all day. "It's an office chair that will help you move—pedals and such—and monitor your movements throughout the day," said Orlando. The team was awarded a government grant to continue fine-tuning this product.
Gaining entry to the Marshall Incubator is competitive. It accepts eight startups three times a year (about 25 to 30 companies a year). Most companies move through in a semester or two. Others return to fine-tune and mentor other cohorts.
Giblib, a member from a past cohort, produces and distributes surgical training videos to hospitals around the country. Founder Brian Conyer describes it as a sort of Netflix for the medical community, and the company's product is already in hospitals around the country.
"I love when I see cohorts from past years connecting with new students or companies," said Orlando. "And I'm not always making those connections, they're happening organically."
Orlando, who is an adjunct professor of entrepreneurship at Marshall's Greif Center, often brings in outside speakers to discuss specific topics relevant to the startups. "Outside speakers give people a whole new set of mentors they can learn from.
The 2021 semester will be both virtual and in-person, enabling those founders outside of Los Angeles to attend events and workshops remotely.
Applications for the Spring 2022 semester will be available in the coming months.