EDIT
It's Time for Dodger Baseball
It's Time for Dodger Baseball
USC Brittingham Social Enterprise Lab's Undergraduate Scholars Program catapults mentorship to a summer of impact at the LA Dodgers Foundation.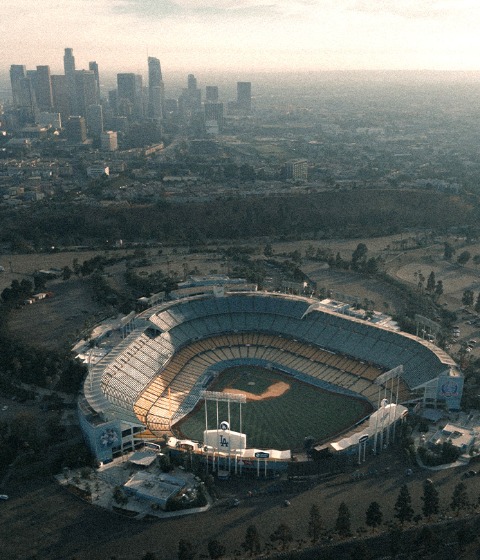 Stay Informed + Stay Connected
MARSHALL MONTHLY BRINGS YOU ESSENTIAL NEWS AND EVENTS FROM FACULTY, STUDENTS, AND ALUMNI.
In the middle of summer in downtown Los Angeles, it's not just the temperature that's rising. At Chávez Ravine, the Dodgers are working hard for a chance once again at the National League Championship.
But Dodgers Stadium represent more than just athleticism and history; it is a place of impact and progress, as led by the LOS ANGELES DODGERS FOUNDATION (LADF) and its CEO NICHOL WHITEMAN. A place of impact University of Southern California rising senior Russell Agustin has dedicated his summer to, in hopes of learning more about community-driven impact programs and how to make them sustainable, wide reaching and deeply resonant.
Agustin is a WARREN BENNIS SCHOLAR, and also participated in last year's USC BRITTINGHAM SOCIAL ENTERPRISE LAB UNDERGRADUATE IMPACT SCHOLARS PROGRAM, which pairs social impact minded students with professional mentors. Agustin was one of two scholars who worked with LADF's Whiteman.
On Whiteman's mentorship, Agustin comments, "Despite being the CEO of a foundation that consistently blazes the trail for sports philanthropy and community engagement, she still makes the time to meet with me and to be a resource in navigating my career in social impact."
In just the first few weeks of his summer internship with LADF, Agustin was able to take part in two major initiatives: the unveiling of two new DODGERS DREAMFIELDS in partnership with the City of Inglewood.
The newly renovated Dodgers Dreamfields will cater to children aged five to 12-years-old and teenagers from the Dodgers Dreamteam and local high schools.
Of the project, Agustin says: After months of planning, it's inspiring to see our ideas and plans turn into a reality. This work reaffirms my personal alignment with the foundation's mission and vision of leveling the playing field for all Angelenos. I'm excited to see what we'll accomplish next!
To learn more about Agustin, Whiteman & BSEL Scholars, please see the Q&A below.
"As changemakers and entrepreneurs, we take it upon ourselves to sacrifice our wellbeing for the sake of our projects. And while advocacy and entrepreneurship require risk and sacrifice, our initiatives are doomed to fail if we do not account for our own wellbeing and for the wellbeing of the teams we work with."