EDIT
Carla Cafe Founders Visit Campus
Carla Cafe Founders Visit Campus
Avi Ahdoot and Jessica Horell '14 bonded in their Writing 340 class over food and cuisine, now they are the co-founders of Carla Cafe.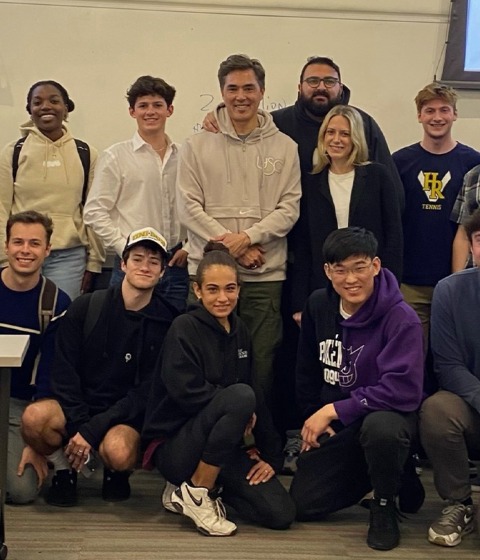 Stay Informed + Stay Connected
MARSHALL MONTHLY BRINGS YOU ESSENTIAL NEWS AND EVENTS FROM FACULTY, STUDENTS, AND ALUMNI.
After meeting on campus during their time at USC, Avi Ahdoot and Jessica Horell '14 bonded in their Writing 340 class where they created a fictitious food startup stemming from their love of food. Although they both graduated from the Real Estate Development Program and initially did not pursue a career in the food industry, they never lost their love for cuisine. ⁠
Avi spent the majority of his 20's in the tech startup world, working on an iOS app concept called Trueey, and Jessica thrived as a real estate agent in Los Angeles at Horrell Realtors. Amidst the pandemic and after facing some trouble with his app, Avi was suddenly faced with the need for supplemental income. It was then time for a pivot. His fiancee, Jessica, thought that sandwiches were the way to go. ⁠

⁠"I started making this aioli chicken sandwich at home. It was just something I'd wake up craving and couldn't really find at nearby restaurants, so I started playing around with the recipe," Adhoot says. "Jessica posted pictures of the sandwich on her Instagram, and immediately, friends and family began reaching out asking where they could buy it."⁠
⁠Seeing massive amounts of traction on Jessica's personal instagram page, Avi started assembling his now-famous chicken aioli sandwiches at home and took orders via Instagram DM's. What started as a casual meal for himself and the eyes of Jessica's followers quickly turned into an exploding sensation.
They launched Carla Cafe - named after the street they lived on - and began rapidly expanding from Avi's house into the kitchen at Bootsy Bellows in May of 2020. Since then, the duo have shifted their operations into their own commissary kitchen and have signed an exclusive deal with Postmates and Uber Eats – rapidly reaching the top of both app's charts in Los Angeles county. ⁠

"At USC, for the first time in my life, I encountered people (both professors and speakers) that had untraditional thought patterns that were similar to my own. And I was able to see that it worked out well for them. That changed my life because up until then my unique learning style made me feel like somewhat of a failure," said Ahdoot.