EDIT
A Trojan Family Business Helps Feed a Nation
A Trojan Family Business Helps Feed a Nation
Across generations of a Trojan family tree, California-based farmers believe accounting is the language of business.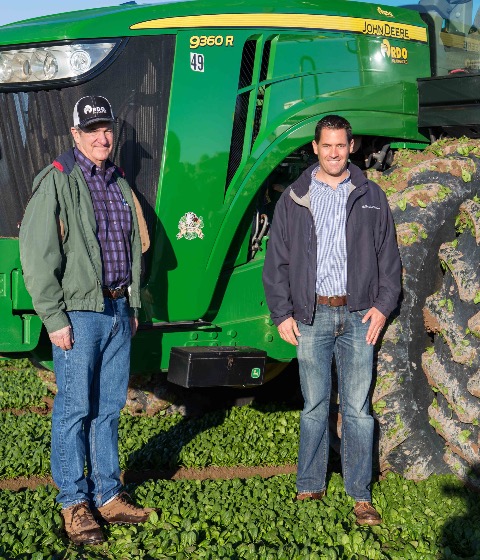 Stay Informed + Stay Connected
MARSHALL MONTHLY BRINGS YOU ESSENTIAL NEWS AND EVENTS FROM FACULTY, STUDENTS, AND ALUMNI.
"As a young boy, I always wanted to be a farmer like my father, grandfather, and great-grandfather," said J.P. LaBrucherie '99. Today, he is president of LABRUCHERIE PRODUCE LLC, working with his father, Tim LaBrucherie '69, who is CEO.
The farm, founded by the LaBrucherie family more than a century ago in California's Imperial Valley, is part of the Winter Salad Bowl, a region where about 30 farms supply 90% of the nation's vegetables in the winter, including iceberg and romaine lettuce, carrots, broccoli, cauliflower, spinach, and spring mix. J.P. followed in his father's footsteps long before he joined the family business, by earning a bachelor's degree in accounting at USC LEVENTHAL and then a law degree. J.P. and Tim agree that their accounting and law degrees bring strength to the company, and both maintain their CPA and law licenses.
It wasn't only J.P. and his father who graduated from USC, but also J.P.'s wife, sister, and two grandparents. LaBrucherie Produce is without doubt a Trojan Family business. While LaBrucherie Produce focuses on growing, they have made some major changes in recent years, starting a one-stop irrigation supply business that grew naturally from sprinkler work they were doing for other farmers. They also converted to almost all organic farming — "That is our niche in the vegetable business," J.P. said.
He and his father take personal pride in the family business, walking the fields every day and making it a priority to share the company's success with their employees. Here, J.P. shares how his accounting education has helped the family business thrive. A loyal supporter of scholarships, he also offers advice for Leventhal students, who he believes have many opportunities open to them with an accounting degree.
How did you decide to follow in your dad's footsteps?

Since I was a little boy, I always admired my father. I grew up seeing his successes in business and farming and was always told by the other farmers how bright and educated he was and always the most informed and one of the most helpful people in the room. So, I wanted to be just like him.

He also told me accounting is the language of business.

Once you speak the language, the rest of it you'll more easily understand and perfect. I also heard all my youth about how much fun my dad had at USC. My parents took us to football games and walked the row and campus; so, of course, this was what I wanted to do. Who wouldn't?! I went to USC and studied accounting, and my senior year I fully appreciated how important the accounting knowledge was. Seeing at that point how powerful my education would be, I then turned to the next area of education my father had, law school [at Stanford University], and thought, "Well, he was definitely right about accounting, let's ask him about law." He explained to me that being a lawyer gives you an edge and perspective and insight from the legal end, because so much of business is dependent on law, contracts, compliance, etc. But also, having a legal mind gives you an analytical edge for spotting issues and opportunities throughout all aspects of business. So, I went to law school, Notre Dame (sorry, USC), and loved it.
After law school, I earned my CPA hours at Deloitte and blended that with my legal background and focused a lot on tax law while there. Basically, I was able to use both forms of my education. But realizing public accounting wasn't for me, and being more entrepreneurial, I had an amazing opportunity waiting for me on the farm. My dad was the only one in the family in the business, so why not see what I could learn from him and try it myself?
Plus, as a young boy I always wanted to be a farmer like my father, grandfather, and great-grandfather. I saw my father and grandfather's successes in doing it, and I knew I had the same educational tools as my dad, so I went for it.