EDIT
Dean's Dialogue: The State of U.S./China Relations (10/10/2023)
Dean's Dialogue: The State of U.S./China Relations (10/10/2023)
In the first in-person Dean's Dialogue, Marshall Dean Geoff Garrett discussed U.S./China relations with former Australian PM Kevin Rudd and former Obama deputy national security advisor Ben Rhodes.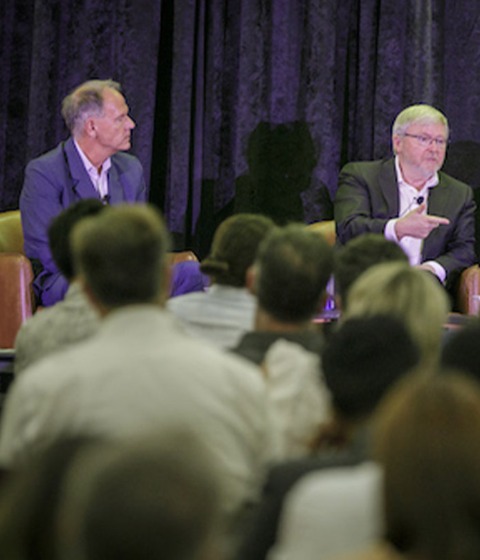 Featured
Geoffrey Garrett

Dean

Robert R. Dockson Dean's Chair in Business Administration

Professor of Management and Organization
Stay Informed + Stay Connected
MARSHALL MONTHLY BRINGS YOU ESSENTIAL NEWS AND EVENTS FROM FACULTY, STUDENTS, AND ALUMNI.
USC Marshall DEAN GEOFF GARRETT spoke to former Australian Prime Minister Kevin Rudd and former Obama speechwriter Ben Rhodes Friday, October 7 in what was the first ever in-person Dean's Dialogue. The topic, the state of U.S./China relations, drew a standing-room only crowd to the Tutor Center Ballroom on the University Park campus. The event was also live-streamed.
The conversation took place during Trojan Family Weekend.
Rudd, president of the Asia Society and the author of a recently released book, The Avoidable War: The Dangers of a Catastrophic Conflict Between the U.S. and Xi Jinping's China, brought his expertise to bear in a wide-ranging conversation on the future of Sino-American relations. Rhodes, who was deputy national security advisor to President Obama, provided domestic and political observations.